Product details
Dress Details
Milly is an elegant and sophisticated chiffon bridesmaid gown, with a unique ruching pattern on the bodice. Flattering and different from other dresses, your 'maids are sure to love Milly.
Features of Milly Include:
Flat chiffon
High halter neckline
Tight ruching pattern on bodice
Spaghetti straps
Sheer keyhole slit in back
Pockets
Fabric loop and hook to hide and secure zipper
Floor length
Empire waist
Fully lined bodice and skirt
From neckline to bottom of skirt is approximately 61" long
Dress accommodates for a height of up to 5'11"
Fit and Sizing
When taking measurements for this dress, we recommend paying attention to bust and waist measurements. Milly is an excellent fit for fuller bust lines, and its empire-style waist flatters all shapes.
Milly can be hemmed after the wedding for a fun and cute short dress!
Fabric and Care
Milly is made from a chiffon fabric which is comfortable to wear and similar in quality to silk, but much easier to clean and care for. This dress is dry clean optional, but can also be washed regularly at home on a delicate cycle. Best of all, the exceptional quality of the chiffon means Milly will hold up over multiple washes so you can make the most of your dress.
Customer Reviews
Filter Reviews:
dress
quality
size
wedding
alterations
dresses
bridesmaids
pockets
material
customer service
09/07/2018
Taylor S.
United States
Not true to size
Pretty dress, I love the style. It is not true to size though. I got a zero and it is certainly larger than the measurements stated online. I also dislike the cups within the dress. They are too big for me and there is no way of tailoring them to fit my chest.
01/06/2019
Emily B.
United States
Great bridesmaid dress!
I was pleasantly surprised with this bridesmaid dress. I was a little hesitant since the reviews said that the dress was super big. The dress is beautiful and it's just a little big, but perfect to get alterations to make it fit exactly how I would like it. The dress is super comfy and has pockets! Great price. Highly recommend!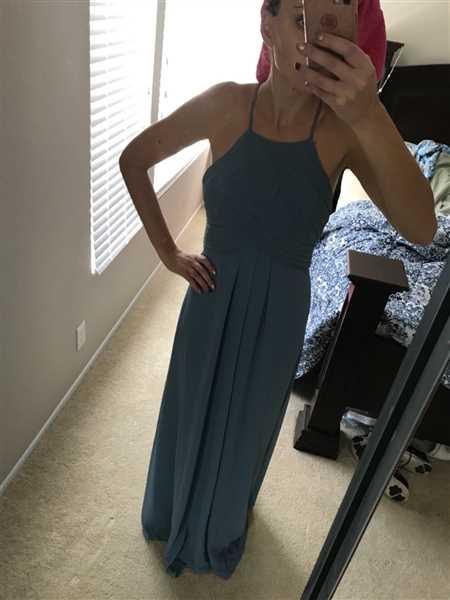 06/19/2018
Michaela C.
Louisiana
Perfect dress
Its beautiful and comfortable. Looks great on many shapes and sizes. A++
MT
05/29/2018
Morgan T.
United States
Too big
The sizing is very odd. Fits around the middle but the top is way too big. Size down. Also, I wish photos of the back were included. It's open so you can't wear a bra.
04/02/2018
Stephanie
Bozeman, MT
Cute Dress but What's up with Sizing?
I ordered this dress four months ago with a coupon based on just the online photos in the right color and it all came as ordered, but I used their measurement chart to judge my size and it told me to order a 12. I am usually a 6-8 in bridal dresses, I have been in weddings before and am engaged with my own dress which all have fallen in the same range. This dress could hold two of me it is SO BIG. When I called to exchange they were nice but told me I had to pay return shipping fees, which is a real bummer considering I only followed directions. Thankfully I have plenty of time to get in the new dress but it would have made my day for them to pop for shipping. The dress itself is true to color and size and would be very cute if it fit me at all. I reordered an 8, I am hoping it is enough to fit me. There are cups sewn into the dress that with this big size are massive on me, but I can't help but wonder if they will be just as big in the 8. Time will tell.
10/09/2019
Brittney H.
United States
LOVE IT
I had to rush the order because the first size was too big and the wedding is coming up soon. I got the dress two weeks before the scheduled ship date. It fits perfect and I love it! Thank you for your help!
08/12/2019
Bailey N.
United States
Great dress!
Great dress and good quality! Love the style. Fits me very well. Just a little long and I'm getting that altered.
08/11/2019
Kaylin I.
United States
I am usually a size
I am usually a size 4 dress but I ordered a size 2 after seeing the reviews. I tend to be larger in the chest than is usual for my size. I wear a size 32D bra. The bust fit fine but it's a tad tight in the hips/ thighs area for me. The material is great and it's a really well made dress. I just need to lose a little fat in my thunder thighs haha
06/04/2019
Michelle .
United States
thank you
the first dress got lost in the mail; however, you all worked with me to get another in a timely manner!
04/01/2019
Kathryn H.
United States
Fast delivery and great service!
Beautiful and quality dress! Definitely runs large (I'm usually a 10-14 in Bridesmaid dresses and this 10 was huge on me.) Returning for a smaller size, but really happy with the quality and customer service I've received.
02/25/2019
Lauren P.
United States
Love this dress!
This dress come exactly as expected! I measured myself prior to ordering and it's almost spit on besides the length, of course! The overall quality of the dress is fabulous!
02/03/2019
Chanel G.
United States
Just Like The Picture
This dress looks exactly like the image above and it fits true to size. It's well made and has a "heaviness" to it so I know it will last a long time. Very happy with this purchase.
06/14/2019
Ellen D.
United States
04/13/2019
Dessy G.
United States
Loved it
The dress fit perfectly and it was so much better than what I was expecting!! I would recommend this dress to anyone!!
04/11/2019
Alexandra R.
United States
Great overall!
The dresses are beautiful, just like the photo. Good quality and I've had great customer service the entire time. The only reason I took off a star was because every dress needs to be altered, for all 6 of my bridesmaids, even though they measured and ordered by the size chart from this website. All of them didn't fit right in the chest area. Other than that, the dresses are awesome and I think they'll look so pretty at my wedding
Beautiful dress, but huge
I am 5'3", 144 pounds- athletic build. I bought a 12, based off the sizing chart. It swamped me. Traded it in for a 10, still huge. It takes a month or so to get the next dress in, so i am going to get the 10 altered down to an 8. I recommend sizing down.
01/31/2019
Kelley v.
United States
But seriously! Size down!
The dress is lovely, appears well-made and is quite comfortable. The back is sheer so this is a no-bra dress, but the bodice has (quite generous) built in cups for modesty. As pretty much all of the reviews suggest, it runs big and I'd definitely recommend sizing down, as the top runs large. I'm very glad I did! Mine will still need alterations but relatively minimal. For reference, I'm almost 5'5" 120 pounds and athletic. Bust=32.5, waist=25.5, hip=35. I was nervous to order the 0 because I am a very consistent 2/4 in dresses, but it was the right call. The bodice is still pretty roomy, but nothing crazy. Overall I'm pleased! 4 stars only because the sizing is goofy.
05/15/2018
Kacie J.
United States
Ran large
I'm always a 6 but these run very large. Had to get it tailored down a full size, which was a waste. Other than that it was fine.
01/18/2019
Blair F.
United States
Poor fit
Huge in the chest area and cheap fabric. Will spend a fortune getting it altered.
08/19/2018
Brianne R.
United States
Awkward fit for a short girl
I recently wore this dress in a wedding and I wish I would have picked another style. The material used to make the bottom layer of the top was very wrinkly no matter how many times I took a steamer to it. I'm 5'2" and 130 pounds. The top portion was too long for my torso and because of the style, it wasn't something that could even be altered by a seamstress or tailor. It visibly folded and creased at my waste early on in the day and I felt very uncomfortable with every movement throughout the night as it dug into my sides. It was like wearing a corset that cut off in the worse possible place- right where your curves start. If the top was even an inch or two shorter I would have been more comfortable. I've bought other dresses from Kennedy Blue before and I've never had issues like I did with this one so maybe it just wasn't meant for me. I'd recommend it for women with longer torsos.