Velvet Fabric Swatches
$ 2.00
Product details
Looking for the perfect color to outfit your bridesmaids in? Whether you're looking for the perfect dusty blue or dusty pink, you're sure to find a color to complement your wedding day!
About Velvet:
Imagine the dreamiest, softest velvet to ever touch your skin. That's our velvet fabric! Our Velvet is incredibly lightweight, which is what gives our bridesmaid dresses such gorgeous flow and movement. 
These swatches coordinate with our velvet bridesmaids dresses and will come as one swatch of our velvet fabric in the color(s) you have purchased. Order yours today!
Customer Reviews
Write a Review
Ask a Question
Filter Reviews:
quality
color
fabric
swatch
Kennedy Blue
swatches
wedding
dresses
bridesmaids
colors
04/11/2018
Viki B.
United States
Luxe Chiffon Fabric Swatches: Slate Blue
Product was neatly wrapped and came quickly. It was very nice to have the swatch of the fabric to match the ties to while the bridesmaids dresses are getting altered. Thank you for offering this service!
08/21/2019
Irene G.
United States
Excellent Overall Service
I have been extremely impressed with the responsiveness of this company. They send the swatches in a very timely manner, and I've had similar experiences with the "try at home" dresses.
08/15/2019
BRITTANY H.
United States
Dusty Blue Color Swatch
Ordering online was very easy and it arrived in the mail when expected. I was happy to find that the swatch is a larger piece than most other sites offer. I would recommend getting a color swatch, even just to store in your purse, to have as a color reference while shopping for all of your wedding needs!
07/29/2019
Shanelle R.
United States
Swatch first!
It was so great to able to order swatches before committing to buy a dress! I ordered a couple of pinkish / peach-ish shades. It's so helpful and convenient. I was able to feel the fabrics, put the swatches against my bridesmaids skin tones. Highly recommend ordering the swatches!
07/12/2019
Megan T.
United States
Blush Fabric Swatch
I was very happy with the number of design selections for the bridesmaid dresses. I ordered Blush and Desert Rose Chiffon swatches. Desert Rose is very similar to the image online, but Blush looks more like a nude or tan with an orange tint, not at all pink like the photos look. I will definitely not be using Blush dresses, but I will consider other colors. Ordering swatches is very easy and the samples come quickly.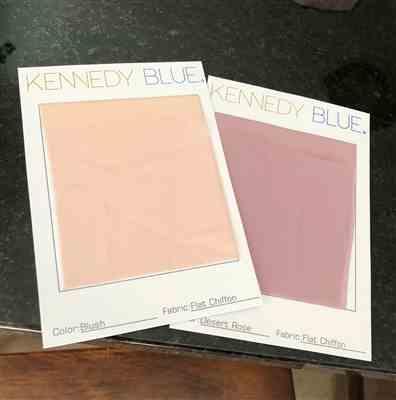 04/24/2019
Katelyn M.
United States
Color Swatches
I am so glad that I choose to order a couple of different color swatches. So let me tell you why. I was wanting what I thought was "dusty blue", but apparently this same color is also called "slate blue" and "steel blue" as well. To me they are all similar but they also all look different. I'm glad I ordered them because there is a color difference then what you see online. Which in my case was a life saver because what I was seeing online was not the perfect color match for me and I got discouraged until I received my swatches and it was the perfect match and color I was wanting. So I definitely would order your swatches to help you make your decision!
05/07/2018
Erica C.
United States
Dark Navy
Overall a very easy process. Shipping was timely. The color swatch was an ample size. The navy is just a little darker than I had hoped for.
02/24/2020
Carmen R.
United States
Swatch
I was especially pleased with the size of the swatch. I really like your company and am so glad to have found it for my daughter's wedding.
02/24/2020
Anisha C.
United States
Sea glass swatch
Got it free and got her fast
02/22/2020
Brittany M.
United States
Kennedy Blue made it right
Ordered three swatches that must have gotten lost in the mail, I replied to an email Kennedy Blue sent me asking about the swatches and let know I never received them. I had three swatches delivered in a matter of a few days! Thank you!!!
02/22/2020
Jackie R.
United States
Fabric swatch
Third time ordering a swatch online. Always so quick to come in the mail! Love that you offer swatches!
02/19/2020
Tasha B.
United States
Swatches are a lifesaver!
I loved the option of being able to order FREE swatches using the discount codes. It helped me finalize my color choice of fog and helped me show all my bridesmaids (who are international and live outside of the USA) what color they'd be wearing. Thank you Kennedy Blue. We just ordered our dresses and we are so excited! <3
02/19/2020
Renee M.
United States
Fabric Swatches
I never received my swatches and would like a refund.
02/17/2020
Alyssa G.
United States
Sage color swatch
It got here fast and looks amazing!!
02/02/2020
Valerie .
United States
Sage
The sage is stunning!
02/02/2020
Chelsea
United States
Slate Blue
The slate blue is gorgeous!
01/31/2020
Shy M.
United States
Color choices
You guys really helped out and finally helped me find the right color I'm looking for in my bridesmaid dresses. Thank you so much!!! I will 1000% recommend this to a great friend of mine who is planning on getting married.
AB
01/30/2020
Anastasia B.
United States
Perfect Middle Blue
We were looking for something to compliment navy for my bridesmaids, and this one is perfect, not bright blue, but also not dark.
01/29/2020
Meg L.
United States
Swatch review
Ordering the swatch really helped me decide what I wanted.