Product details
This dress is a part of our At Home Try-On collection of sample dresses! To try the Erica bridesmaid dress on at home, you can choose from the sizes and colors available to help decide on the perfect style and size for you.
How It Works:
Order the samples of your choosing and we will ship them directly to your home along with a measuring tape, a prepaid shipping label and bag to send your dresses back to us in! You are allowed 3 days with the dresses - so gather your girls, grab some champagne and snap some pics. Have a "try-on" party in the comfort of your own home!
Don't forget to share your pictures on social media and use #KBAHTO for a chance to be featured! 
Please note that the samples listed on this page are the only colors and sizes we have available in our sample stock. The selected color and size are also not guaranteed.
We recommend ordering your sample in the size closest to your typical dress size. If that does not fit just the way you'd like, we recommend taking your bust, waist, and hip measurements and comparing them to our size chart to determine the size that you should order when placing your actual dress order. 
If you're having trouble finding exactly what you're looking for, we're here to help! Contact us via phone: 1-844-294-7199 or email: info@kennedyblue.com. To find out more about the At Home Try-On service, view our FAQ. 
Customer Reviews
Write a Review
Ask a Question
Filter Reviews:
dress
quality
color
sample
something
swatch
condition
service
Kennedy Blue
home
03/29/2020
Christina T.
United States
Convenient Try Before Buy
The package arrived quickly. The dress fit as expected. I have a short torso, so it allowed me to see if I would need adjustments and where. Price to try on is fairly reasonable considering it covers the shipping both directions. Dress was in good condition. Only wish I could see the color I was interested in, even as a swatch, without buying a swatch. Easy to send back.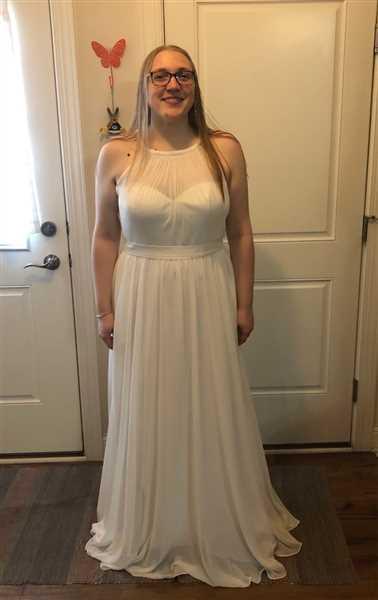 02/29/2020
Kimberly H.
United States
Try On Dresses
Beautiful, great quality. Best fit was the 4 which was her bust size.
02/24/2020
Courtney S.
United States
STUNNING
I love the fit of this dress! Definitely go by the measurements for the perfect fit! I can't wait to wear this by my best friend on her big day!!
01/10/2020
Haley D.
United States
Sample Erica
The dresses were in pretty good shape. The only issue is that the zipper on one of the dresses wouldn't stay up all the way but other than that they were great. Glad to have this service available!
11/28/2019
Dayle C.
United States
Great service
I was able to try on the dress at home at a discount and then buy the dress during the Black Friday sale. It was a great experience!
08/10/2019
Hayley C.
United States
Perfect
This sample fits perfect and was in INCREDIBLE condition. So excited to order the real thing!!!
03/11/2019
Lauren H.
United States
Great company but dress wasn't for me
The dress came quickly. It just wasn't a good fit for me but I liked having the option to try something on. I would def recommend this company to anyone looking for dresses. I've heard good things from fiends which is why I gave them a try in the first place.
02/18/2019
Sarah I.
United States
Easy and Convenient Process!
The dress shipped quickly as promised and arrived right on time. The process of trying on the dress, taking my measurements and returning the dress could not have been easier. I highly recommend and thank Kennedy Blue for their great service!
11/26/2018
Samantha B.
United States
I really enjoy being able
I really enjoy being able to order a sample dress to try on before making the purchase!
Hi Samantha! So happy to hear that you are enjoying the convenience of our at home try on program.
11/02/2018
meaghan c.
United States
Great
I ordered 5 different dresses for home try on and they were all great. However all 5 dresses were missing the hook and eye closure at the top of the zipper which was annoying. Overall quality was great and I would recommend
07/26/2018
Emily
Bonifay, Fl
At home try-on
Overall, I think the at home try-on is a great idea. My bridesmaids are scattered around the US, so I knew it would be hard for us all to go to a shop together. This way each of my bridesmaids can measure for themselves and order the dress. My only complaint is that I did not receive a measuring tape, which isn't a huge deal, since I already had one at home. Overall, I am pleased with my try-on.