Product details
This dress is a part of our At Home Try-On collection of sample dresses! To try the Bailey bridesmaid dress on at home, you can choose from the sizes and colors available to help decide on the perfect style and size for you.
How It Works:
Order the samples of your choosing and we will ship them directly to your home along with a measuring tape, a prepaid shipping label and bag to send your dresses back to us in! You are allowed 3 days with the dresses - so gather your girls, grab some champagne and snap some pics. Have a "try-on" party in the comfort of your own home!
Don't forget to share your pictures on social media and use #KBAHTO for a chance to be featured! 
Please note that the samples listed on this page are the only colors and sizes we have available in our sample stock. The selected color and size are also not guaranteed.
We recommend ordering your sample in the size closest to your typical dress size. If that does not fit just the way you'd like, we recommend taking your bust, waist, and hip measurements and comparing them to our size chart to determine the size that you should order when placing your actual dress order. 
If you're having trouble finding exactly what you're looking for, we're here to help! Contact us via phone: 1-844-294-7199 or email: info@kennedyblue.com. To find out more about the At Home Try-On service, view our FAQ. 
Customer Reviews
Write a Review
Ask a Question
Filter Reviews:
dress
quality
alterations
person
spot
sample dresses
chest
back
choice
stars
01/22/2020
Jessica K.
United States
Love it
Luckily the sample was a perfect fit. I do wish there were more samples available as out of the 5 dresses I was looking at this was the only one with a sample. It was and is my top choice but would go been nice to have others to compare too
08/19/2019
Allison D.
United States
Beautiful!
I tried on several dresses and each were beautiful it was hard to decide. I found the material to be excellent and each dress fit perfectly! I expect 0 alterations other then a small hem to shorten the length. I am about 5'6 but the dresses are very long. The only reason I am giving 4 stars instead of 5, is because you have to pay for sample dresses to try on. I wish you could pay, but get refunded if and only if you end up buying the dress. I was able to get my hands on a discount but still.
04/04/2018
Emily P.
United States
Quick and easy process!
The try-at-home dress was delivered in just a few days, I was able to try it on and sent it back within 24 hours! I would recommend taking advantage of this because sizing can be difficult to judge, and now I know what size to order the actual dress in and what alterations will need to be done. The only negative part was that the sample dress comes loose in a cardboard box so it was kind of dirty upon arrival. Also, there was no hook and closure on the sample I received (broken) so I couldn't really see how the neck part will look. The dresses should be inspected closely before being sent out.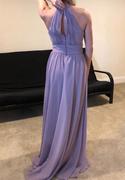 07/04/2020
Tracey W.
United States
Super Easy!
The whole process was super easy! Purchased one immediately after sample arrived since I know I loved it!
06/20/2020
Erica D.
United States
Not a right fit
Loved this dress! But in the back it puffed out too much in the middle and where it lays I'm not sure it can be taken in enough to make it lay flat against me. Will sadly return this one.
02/29/2020
Kimberly H.
United States
Try On Dresses
Love this dress! Great quality.
01/26/2020
Amber
United States
Sample home trial
It was definitely worth it doing e home trial! The dress is very comfortable, has great coverage and will be easy to wear all day long. The top is good for medium to a little bigger bust.
12/26/2019
Kelsey P.
United States
Very pretty on
I didn't think I'd love this dress, but it was super cute on and was very comfortable!
12/04/2019
janice s.
United States
FIT SO PERFECTLY
The quality is exceptional and the measurements were spot on!
10/23/2019
Rudi M.
United States
Average
I"m 5'3" 110 lbs and 34C chest. I ordered a sample size 2 and it was extremely large on me and would have needed a lot of alterations. I'm pretty petite and the top just seemed like a lot of fabric and rouching for my smaller frame.
09/10/2019
Alexis E.
United States
09/08/2019
Rachel P.
United States
Bailey Review
Hooks were missing on the dress but it wasn't a huge deal. So great being able to see the quality of the dress in person before the bridesmaids have to purchase it! Definitely impressed with the quality, felt sturdy and seems like it'll hold up really well!
07/22/2019
Macy F.
United States
Pretty dress but not the one for me
I was really excited to try on this dress! It is beautiful and I loved the high neck. The bottom of the dress was very flowy and pretty but the top didn't work for me. I have an average size chest and the dress just didn't lay how I wanted it to.
06/17/2019
Angela C.
United States
Convenient
It was nice to try on the dresses in advance to see if the style fits my body shape. The pre printed return label makes it super convenient