Product details
Dress Details
Simply elegant, Riley is a beautiful choice for your bridesmaids. The tasteful slit and v-straps will look gorgeous in your wedding photos, and Riley is an easy dress to mix and match with other Kennedy Blue styles!
Features of Riley include:
Flat chiffon fabric
V-neckline
1" straps allow you to wear a normal bra
Fitted bodice
Fully lined bodice and skirt
Back zipper closure includes fabric loop and hook to hide and secure zipper
1 ¾ inch sewn in sash
Floor length A-line slightly pleated skirt with 30" slit
Pockets
From neckline to bottom of skirt is approximately 61" long
Dress accommodates for a height of 5'11"
Available in plus sizes
Over 30 color options available
Fit and Sizing
When taking measurements for this dress, we recommend paying attention to bust and waist measurements.
The higher cut waist on Riley makes it a great style for a variety of figures. The thick straps on Riley also provide excellent bust support.
Alter Riley after the wedding for a fun addition to your wardrobe!
Fabric and Care
Riley is made from a chiffon fabric which is comfortable to wear and similar in quality to silk, but much easier to clean and care for. This dress can be dry cleaned, but can also be washed regularly at home on a delicate cycle. Best of all, the exceptional quality of the flat chiffon means Riley will hold up over multiple washes so you can make the most of your dress.
Customer Reviews
Filter Reviews:
dress
size
wedding
sizing
home
dresses
pockets
order
length
customer service
04/27/2018
Hope R.
United States
Love
The try on home process was so easy along with the eventual picking and ordering of the dress. I tried three different styles in three different sizes. I decided against all of them but ended up ordering the right size in a completely new style without trying it on first. It fits great and I love the material. I have some minor alterations to do but otherwise a pretty painless experience as far as bridesmaids dresses go!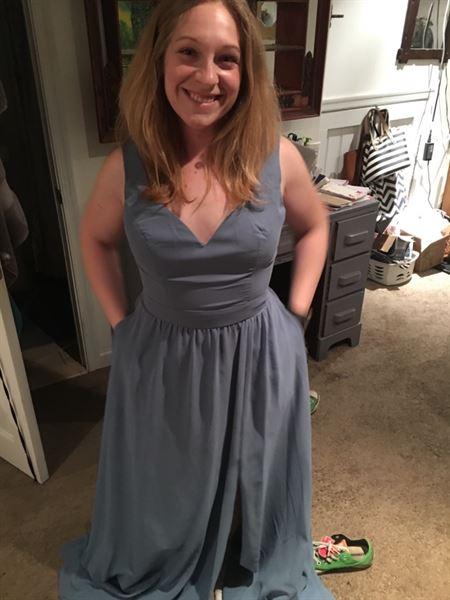 08/20/2018
Lindhe C.
United States
Beautiful Dress
Dress is great, well made, just lovely. The only thing was that it didn't ship on time(didn't arrive by the date I was told it would), but it was an error with the manufacturer not Kennedy Blue. When I emailed about it they were quick to respond with the reason for the delay and promised quicker shipping when it wa steady. Over really pleased with the experience.
05/22/2019
Maria E.
United States
LOVE THE RILEY
AWESOME! The dress was better in person. The only thing was I went with my gut regarding the size for my neice and was right on. If we went with the measurements the dress would have been a tent on her. Other than that, it is beautiful and we all can't wait for my daughter's wedding to see the girls in these dresses.
04/24/2019
Bailey F.
United States
Great service
The company refunded me when a discount did not go through, as well as shipped my dress much earlier than expected. Cant wait to wear my dress in august.
03/20/2019
Gina R.
United States
Great dress
Great bridesmaid dress. Nice there are so many colors. Very comfortable and simple but looks really nice. A line is flattering. Love the pockets! The try at home allowed me to figure out what size to order and swatches helped make sure I got the right color. Only need to adjust the length and maybe the straps a little. Otherwise fits great!
03/18/2019
Amanda M.
United States
Long dress
Good the dress is long I'm 6 feet in heels and the dress goes to the floor great dress for tall girls
10/10/2018
Alix D.
United States
Riley
Love it! So nice and comfy! It does run big and pretty long! But overall would buy again!
09/08/2018
Natasha B.
Alberta - Canada
SO HAPPY!!!!
Beautiful! Customer Service is amazing. Bordeaux color is a beautiful dark, rich burgundy color! Sizing is true to size! Very flattering fit for all shapes. Quality seemed really good as well.
07/23/2018
Courtney
United States
Flattering Dress
I loved how this dress fit me thin in the waste and flowed out. It was nice to be able to eat and drink what ever at the day of the wedding/reception and not notice in the dress. I had to do minimal alterations and fit many body shapes of other girls in the wedding. I would definitely recommend.
06/13/2018
Jen S.
United States
Love the dress
Working with Kennedy Blue has been great. From using the option to try on dresses from home to correct sizing and delivery of the dress ordered, the experience has been wonderful. Kennedy Blue, thank you for putting the customer first and making the experience of finding bridesmaid dresses so fun.
06/09/2018
Kristen S.
United States
Loved it!
It exceded my expectations. I was super nervous to order a bridesmaid dress online but am so happy with how it fit.
06/06/2018
Mary W.
United States
Very Flattering. Order To Largest Size
Just received my dress and it is gorgeous! The material is great and is very flattering. Order according to the size charts (order to your biggest measurement). I am 5' 3", 200 lbs., and a size 38DD. I ordered a size 18 based on my waistline. I am glad I did. While I will have to get adjustments on the length and in the bust, it fits great around the waist. Very pleased with the accuracy of the shipping, and the dress itself. I am excited to wear this in my friends wedding
02/23/2018
Briana S.
United States
True Fit As Described
I requested rose petal pink and the color is great. The fit is true to the given size chart.
08/11/2017
Margaret D.
United States
Riley bridesmaid dress
The dress is comfortable and beautiful!! The side pockets are a bonus. A great pick and can easily be worn again!
07/31/2017
Elizabeth .
Blaine, MN
All-Around Fabulous Dress!
I was very impressed with the Riley dress. I wore it in a July wedding and felt stunningly beautiful! It complimented many different body types and we all got so many compliments. We wore ivory and I can assure you that I will be shortening this gown and wearing it to my own bridal events.
06/29/2017
Vicki D.
New York
Color
Love the shade of blue. Just perfect match for our wedding.
06/08/2017
Tara C.
United States
Fit perfectly!
Great initial tryon. Can't wait to wear it to the wedding. Also love that it's boning/structure doesn't necessitate a bra.
09/01/2019
Natalie C.
United States
Great Customer Service
Great customer service when I needed to change my shipping address! The dress itself is true to sizing on the website, but the straps are a bit long. Easy to get tailored though.
slit. Secure straps, but open back.
Lovely dress. Went over very well.
01/23/2018
Julie N.
United States
This dress is a tent
Why bother doing measurements? This dress is absolutely huge and will probably cost me the cost of the dress to get it altered.