Product details
Dress Details
The gorgeous floral embroidered bodice on Jade, complete with the special detailing along the collarbone and v-back, make Jade a beautiful choice for your wedding. The high neck and slit on the skirt are classy and elegant. Mix and match Jade with other Kennedy Blue style dresses for a perfect mismatched bridal party!
Features of Jade include:
Flat chiffon skirt
Embroidered bodice
Sheer high neck over a sweetheart neckline
3 inch sheer straps with elastic
V-back
Sewn in 1 inch sash at waistline
Pockets
Flowy A-line skirt with slit
Fully lined bodice and skirt
Fabric loop and hook to hide and secure zipper
From neckline to bottom of skirt is approximately 61" long
Dress accommodates for a height of 5'11"
Check out my sister dress Kinsley! Same style with a beaded bodice!
Fit and Sizing
When taking measurements for this dress, we recommend paying attention to bust and rib cage measurements.
Please note that the embroidered lace bodices are not stretchy. We are unable to order additional fabric, so please order with enough room in the bodice.
Hem Jade after the wedding for a fun addition to your wardrobe!
The model pictured is 5'9" and wearing 3" heels. She is wearing a size 4 dress.
Fabric and Care
Jade is made from a chiffon fabric which is comfortable to wear and similar in quality to silk, but much easier to clean and care for. The embroidered bodice is also surprisingly easy to care for, and requires no special cleaning. This dress can be dry cleaned, but can also be washed regularly at home on a delicate cycle. Best of all, the exceptional quality of the flat chiffon means Jade will hold up over multiple washes so you can make the most of your dress.
All the new Kennedy Blue embroidered bridesmaid dresses are soft, comfortable, and lightweight. The chiffon skirts are flowy and easy to wear, and the embroidered bodices are just as comfortable. These embroidered dresses are perfect for any season!
Customer Reviews
Filter Reviews:
dress
Jade
Kennedy Blue
mint
wedding
friend
plan
work
gals
alterations
05/12/2017
Rebecca R.
United States
Pregnant while dress shopping
Just ordered this dress for my sisters wedding in July. I will be 5 weeks postpartum at her wedding and ordered the dress at about 5 months pregnant. I did the at home try on with a few different styles and sizes and ordered a size larger than what I was then just to be on the safe side. When the dress came in, I was 9 months and it BARELY zipped.... but it DID ZIP! This should be perfect because I know I will drop back down a little. So it will hopefully be a perfect fit in July! I have always loved the customer service at Kennedy Blue (I used them for my bridesmaids as well)... the colors they offer and dress styles are beautiful and I'm very happy with my experience with them!!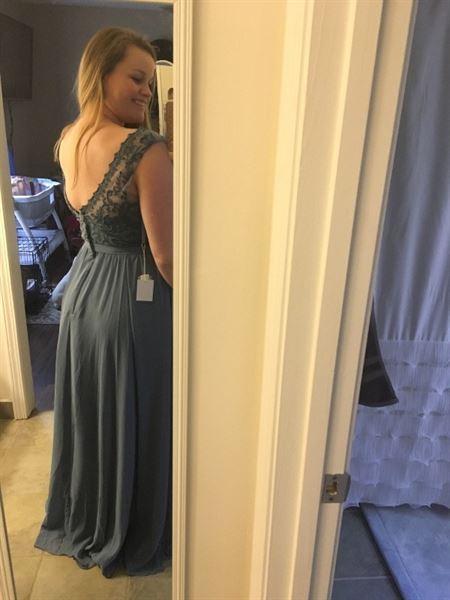 02/04/2019
Vanessa P.
United States
Pretty dress, runs very small, poor customer service
I checked measurements carefully before buying and dress came in drastically smaller. Called several times without answer and when I finally got through the operator just repeated policies instead of communicating with me through my questions. After being very reasonable in my requests I finally offered a resolution and the agent only responded with yes you can do that online, pay for expedited shipping and hung up. Will be trying to exchange online now but doubt I will use this company again or recommend to friends in the future.
03/29/2018
Carol S.
United States
Itchy
I returned it. I tried it on when it came in and it was really big on me and very itchy on the armpits where the lace is. Armpit holes were small too.
11/27/2017
Beth H.
United States
Gorgeous!
The dress is gorgeous and very well made. Sadly, our wedding has been cancelled, but I am giving the dress to my daughter to wear on other occasions.
01/24/2019
Crystal S.
United States
Jade Review
It fits great and as expected. The only issue is that it is really long. Im 5'4" and even with 3" heels i will still need it hemmed up.
06/29/2018
Shelby O.
United States
Overall great!
Dress was much larger than expected, and very long, they encourage you to go up a size because of the lace but mine was way too big in the chest and there is no way to take in the lace part.
11/21/2019
Kymberly D.
United States
Bridesmaids Dress
I'm very pleased with the fit. I didn't follow the recommendations, I ordered my exact size & it was the best choice. All I need to do is have it hemmed.
03/15/2019
Sarah H.
United States
Jade Bridesmaid dress
Fits beautifully! Love this dress!
02/28/2019
Lacey D.
United States
Well made dress!
Great quality and received sooner than quoted!
02/14/2019
Rosemary S.
United States
Jade
Beautiful and seems like it will be very comfortable. Needs some alterations. It is for a fall wedding.
12/04/2018
Samantha R.
United States
Jade Bridesmaid Dresses
So happy with the entire purchase from ordering to receiving. The team at Kennedy Blue did a wonderful job of sending out samples so my bridesmaids could try them on before ordering! We received all of our dresses in such a timely manner that I don't have to stress about getting them in for alterations if needed. Again, thank you for making this wedding process a lot less stressful! Beyond happy with Kennedy Blue :)
07/23/2018
Meghan L.
Roanoke, Virginia
Something Blue!
The mother of the bride was gracious and so kind to purchase the bridesmaid dresses. It was such a sweet gift! I have never loved a dress more! The elegance and class that comes with the Jade dress in Slate Blue is perfection. The fit is ideal. The length is long and romantic. The detail in the lace is exquisite! I speak only positive feedback regarding this dress. I will continue to get my dresses from Kennedy Blue.
06/16/2018
Kailey
St.Louis MO
Overall look
I recently went to a wedding and the bridesmaid were wearing this dress! It looked beautiful on all body types!
05/30/2018
Kelli J.
United States
Bridesmaid dress
I LOVE these dresses! I ordered them in Sky blue and it is the perfect shade! My bridesmaids are going to look so amazing in these!
04/26/2018
Ntanga M.
United States
My Dress
Smooth process. Beautiful dress. Getting to try on the dress ahead of time for $10 was very helpful.
04/06/2018
Jennifer N.
United States
Beautiful dress
Ordered this in mint for a friend's wedding. It is beautiful. Fortunately and unfortunately my work out plan is working so I'm drowning in it (and for us short gals it's always sooo long) but nothing alterations can't fix. Hard to tell though about measurement accuracy since I went with my size at the time (luckily sized down as I was between two and went for my "normal sizing" at that time)
02/24/2018
Megan T.
United States
In love!
I am so obsessed with my bridesmaids dresses! I was really skeptical about ordering online but the entire process was smooth and flawless. We took advantage of the home try on program, which was great! The dresses came exactly as pictured, before the predicted delivery date and they all fit! (Some need some alterations but that's to be expected). I would absolutely order from Kennedy Blue again!
01/23/2018
Bre J.
United States
Love the dress
I placed my order and the dress actually came a month earlier then originally posted. Love the dress doesn't feel cheap at all. The top is slightly itchy but all in all no complaints.
11/06/2017
Eve D.
United States
Perfection
Perfect dress! Ordered in white and was skeptical about what I would get at this price. Needless to say, I was blown away at the quality of this dress! Not see through in the skirt at all. Exactly the dress I wanted to wear on my wedding day. Thanks for a great experience Kennedy Blue!
10/30/2017
Kara D.
United States
Jade dress in slate blue
Great! They came in a little big but are beautiful