Product details
Dress Details
Allison is a fun convertible boho chic bridesmaid gown that is perfect for your unique bridal party. Flowy and versatile, this dress is flattering on a variety of figures.
Features of Allison Include:
Flat Chiffon
Off the shoulder or strapless
Sweetheart neckline
Double layer ruffle top
Detachable spaghetti straps
A-line flowy skirt
Fully lined bodice and skirt
Fabric loop and hook to hide and secure zipper
Dress accommodates for a height of up to 5'11"
Fit and Sizing
When taking measurements for this dress, we recommend paying attention to bust and waist measurements.
Allison can be hemmed after the wedding for a fun and cute short dress!
Fabric and Care
Allison is made from a flat chiffon fabric which is comfortable to wear and similar in quality to silk, but much easier to clean and care for. This dress is dry clean optional, but can also be washed regularly at home on a delicate cycle. Best of all, the exceptional quality of the flat chiffon means Allison will hold up over multiple washes so you can make the most of your dress.
Customer Reviews
Filter Reviews:
dress
quality
color
style
size
wedding
friend
alterations
sizing
bridesmaids
04/30/2018
Whitney M.
United States
Very Pretty!
The dress fits great and is true to the measuring chart. I am 5'1, 170lbs and I got the Size 10 and it will only need a few alterations. It comes very long, which is actually good because for tall girls like me, it will still fit. I probably will have an inch taken off the bottom of mine. The quality is good and the dress is very flattering. The only thing to be aware of is it takes FOREVER to finally get to you. I mean like 3-4 months. I ordered mine at the beginning of Jan, and finally got it in like April. So, be prepared for that.
01/24/2019
Sarah M.
United States
03/18/2019
Jenny M.
United States
So long
The dress is soooo long on me. I wish you offered different lengths
01/24/2019
Erin M.
United States
Beautiful dress
It is an ABSOLUTELY beautiful dress. The emerald color is great. I used my measurements along with the size chart, and I measure exactly into an 8. However, when I got the dress, the tag and invoice said 8 but it's probably two sizes too big, so I'm not too happy with the number of alterations I have to get. I am also 5'10'' and the dress was long enough, which was also great.
03/05/2019
Taylor N.
United States
Allison dress
AMAZING!! The dress is so pretty. Although the sizing was a little off it is still wonderful!!
02/11/2019
Abby W.
United States
Beautiful and perfect fit
This dress fits like a glove and I love the style. Overall a wonderful purchase.
01/24/2019
Whitney P.
United States
Amazing
Love the dress! Did the measuring exactly as told on website and my dress fit fine. Will have to do normal alterations for length and bust area (to long and to big) but I love my dress! It's beautiful. It came quicker than expected. I will definitely recommend to future brides or even use in my future wedding :) Thank you!
04/19/2018
Allison R.
United States
beautiful dress
I have ordered a lot of bridesmaid dresses and this one is by far my favorite. So flattering and I love the off the shoulder look.
TT
04/10/2018
Taylor T.
United States
Allison Dress in Sky
This dress is beautiful and a great value for the price! With that being said there are a couple flaws in the design. Cons: First the dress size chart is horrible. I am typically a size 8-10 and ordered a size 12 based on measurements suggested by the size chart (and yes I measured correctly). When the dress arrived I thought I made a horrible mistake because the top was falling off of me. Second if you want to look well polished allow time and money to get the bottom of the dress hemmed. The hem is uneven (much longer in the back) and honestly it looks ridiculous. My last complaint is that the fabric near the stomach/ boning came wrinkled underneath and it doesn't look like there is anything I can do about it, no steam is going to fix it, I just hope it doesn't show up in pictures. Pros: I anticipated having to wait up to 6 months to get my dress so I ordered in January, I received it almost two months earlier in April. The color is spot on to the swatch. The add on straps are a nice touch and will likely be utilized when I am dancing the night away! After the alterations were done (the top was fixed and hem) the dress looks beautiful on. All in all, if you are going to purchase this dress you should anticipate having to put some work into it.
07/02/2019
Liz T.
United States
You get what you pay for
The dress is fine however, it's costing me twice as much to get it altered. The hem is so uneven on both sides and the back that it looks very lopsided. I'm glad it came with attachable straps-they will come in handy. I was pleased with the deliver though. I thought it was going to arrive late July but it actually arrived about a month earlier. Not sure I would buy again though.
10/29/2019
Alexandria B.
United States
Maid of Honor for best friends fancy day!
The dress was amazing! The sleeves do restrict arm movement but only when you're trying to lift them over your head. The dress is extremely flattering. I did have to get it altered but I ordered a size too big. I'm 5'3" and like 165... I highly recommend this dress. I got compliments all night!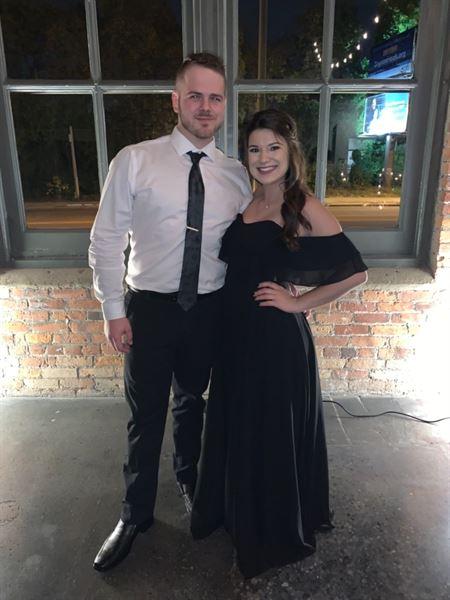 08/15/2019
Baylie B.
United States
Perfect
Shipped faster than expected and fit perfect!
07/27/2019
Hannah S.
United States
Amazing!!
Dress is perfect and the sizing chart was very helpful and accurate.
06/07/2019
vanessa m.
United States
Allison bridesmaid dress
Great the dress fits perfect definitely true to size and dress is gorgeous
04/02/2019
Madison M.
United States
It was a great fit
It was a great fit (true to size) and seems like good quality! I'm excited to get to wear this in my best friend's wedding coming up soon!
03/05/2019
Jacquelyn C.
United States
Bridesmaid Dress
Very positive!!
02/26/2019
Rebecca K.
United States
Amazing
I absolutely love ten dress. It is amazing.
02/11/2019
Mackenzie L.
United States
Allison Bridesmaid Dress
Dress fit perfect and shipping was way faster than expected
02/08/2019
Caitlyn B.
United States
Amazing for my MOH
Fit like a glove other than some gapping at the bust and length being too long it fit perfectly!! ❤️