Product details
Features of Mackenzie include:
Flat chiffon fabric sleeveless
Fitted ruched bodice
Fully lined bodice and skirt V-neckline with four supportive thin straps
Unique criss-cross back design that hooks together in the back
Back zipper closure includes fabric loop and hook to hide and secure zipper
5 inch sewn in sash at waistline
Hidden side pockets
Flowy floor length A-line skirt
From neckline to bottom of skirt is approximately 61" long
Dress accommodates for a height of 5'11"
Available in plus sizes
Over 30 color options available
Fit and Sizing
When taking measurements for this dress, we recommend paying attention to bust and waist measurements.
Hem Mackenzie after the wedding for a fun addition to your wardrobe!
The straps on Mackenzie come long to accommodate for larger busts. These are easily altered if needed!
Fabric and Care
Mackenzie is made from a flat chiffon fabric which is comfortable to wear and similar in quality to silk, but much easier to clean and care for. This dress can be dry cleaned, but can also be washed regularly at home on a delicate cycle. Best of all, the exceptional quality of the flat chiffon means Mackenzie will hold up over multiple washes so you can make the most of your dress.
Customer Reviews
Filter Reviews:
dress
color
size
sample
wedding
alterations
dresses
pockets
bridesmaid dresses
girls
03/20/2019
Amanda O.
United States
Love this dress!
I absolutely love this dress! The only thing is the straps are too big but that's an easy fit!
B
06/30/2017
Bailey
Lakeland, FL
Beautiful!
This dress is extremely gorgeous and the straps really give it a wow factor!
05/02/2017
Katelyn K.
United States
Beautiful!
This dress is really beautiful and flattering. The only problem is how long the straps are...it cost quite a bit to have the dress altered.
This is a nice dress
This is a nice dress
01/22/2019
Kelli E.
United States
12/06/2019
Laura S.
United States
Great dress!
Picture & sizing very accurate! Fits super well and barely had to get it altered.
11/01/2019
sarah
United States
Mackenzie Sample
I loved this dress. It was slightly big in the bust but overall I loved it. I felt like it gave me shape but without spilling out of the dress. The straps are large, but can easily be taken in. I am 160lbs, 34DDD, and 5ft3in. It was definitely long but they tell you its made for someone 5'11". And I tried on a sample 10 and could definitely be stretched out. Customer service was great and helped me every bit of the way.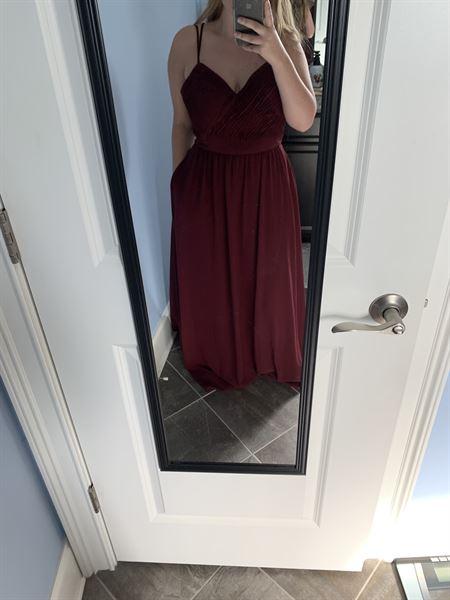 10/23/2019
Apryl F.
United States
Beautiful dress!
I received my dress much quicker than I expected. The dress is beautiful. The only issue with this dress is that the straps on the back are pretty loose. You would have to be a specific shape in order for the dress to fit perfectly. I will have to get the dress altered to make it fit without the straps falling. Also, I am 5'8" and the dress is a few inches too long, so I will have to get it hemmed too. Other than that, I highly suggest getting this dress if you can't decide!
03/20/2019
Chantal H.
United States
So cute!
The dresses fit my girls great! Only slight alterations on strap lengths needed! Very flattering!
03/08/2019
Benjamin A.
United States
Dress
This dress arrived around 2 weeks early and was the correct size for what I ordered! I am very very happy with this product.
02/05/2019
Rachel W.
United States
Excellent
Super easy company to work for. It was helpful to get a sample for sizing. Pretty true to size. Loved the fun styles and they have pockets! Huge perk!
01/09/2019
Laura S.
United States
Excited to wear it!
I received the dress far sooner than I anticipated, which has not been my experience in the past when purchasing a bridesmaid dress! Ordered in dusty rose, a soft pinkish-purpleish-gray that should be a lovely transition for a late spring wedding. Most excited about the sexy back detail.
11/06/2018
Taylor L.
United States
Great service and company
The dress sizing chart was accurate and it came sooner than expected!
10/16/2018
Kristal D.
United States
Great
Excellent experience, came in earlier than anticipated
09/11/2018
Hannah J.
United States
So beautiful
I love this dress. I can't wait to wear it
09/05/2018
Alise L.
United States
Great Value!
Love the color (slate blue), the neat back design, and the POCKETS. All my girls love the dresses and found them comfortable/practical.
08/03/2018
Athena L.
United States
Beautiful!
Love the dress! Very unique straps, which make it stand out. They are longer than expected and will need to be shortened. The front detail is gorgeous as well.
Amazing Product!
This dress was beautifully made and very flattering. Just make sure to order it it time as it takes a while to ship!
Beautiful
The dress is beautiful and gorgeously designed-- my ladies will look amazing standing by my side!
02/09/2018
Caroline B.
United States
Perfect Fit
This dress fit perfectly! I'm 5'8" and I plan on having it hemmed, as well as some length adjustments on the back straps. The material looks and feels to be very high quality! I weigh around 120-125lbs and the size 4 fit wonderfully. It took about 3.5 months to ship after placing my order, but it was well worth the wait. Just be sure to order with plenty of time before the wedding!