Product details
Dress Details
Romantic and elegant, Iris is a gorgeous dress for your bridesmaids. The sheer embroidered racerback design is absolutely gorgeous and will look great in your wedding photos! Not only does our exclusive embroidered pattern make this dress truly one of a kind, but the soft chiffon also makes it very comfortable!
Features of Iris include:
Flat chiffon skirt
Embroidered bodice
V-neck
Thin straps
Sheer racerback
Pockets
Sewn in 1 inch waistband
Flowy A-line skirt
Floor length
Fully lined bodice and skirt
Fabric loop and hook to hide and secure zipper
From neckline to bottom of skirt is approximately 61" long
Dress accommodates for a height of 5'11"
Check out my sister dress Jasmine! Same style dress with a beaded bodice!
Fit and Sizing
When taking measurements for this dress, we recommend paying attention to bust and rib cage measurements.
Please note that the embroidered lace bodices are not stretchy. We are unable to order additional fabric, so please order with enough room in the bodice.
Hem Iris after the wedding for a fun addition to your wardrobe!
The model pictured is 5'9" and wearing 3" heels. She is wearing a size 4 dress.
Fabric and Care
Iris is made from a flat chiffon fabric which is comfortable to wear and similar in quality to silk, but is much easier to clean and care for. The embroidered bodice is also surprisingly easy to clean, and requires no special cleaning. This dress can be dry cleaned but can also be washed regularly at home on a delicate cycle. Best of all, the exceptional quality of the flat chiffon means Iris will hold up over multiple washes so you can make the most of your dress.
All the new Kennedy Blue embroidered bridesmaid dresses are soft, comfortable, and lightweight. The chiffon skirts are flowy and easy to wear, and the embroidered bodices are just as comfortable. These embroidered dresses are perfect for any season!
Customer Reviews
Filter Reviews:
dress
color
size
wedding
dresses
bridesmaids
pockets
material
lace
everything
02/02/2019
Lindsey H.
United States
My new favorite dress!
This was my first purchase from Kennedy Blue and it did not disappoint! I LOVE the pockets and other than the length the dress fits me perfectly! The measurement size chart is definitely accurate for determining your true size (I was the same size in this dress that I am in most pants and dresses). The detailing on this dress is amazing- overall, would highly recommmend this site and the dresses!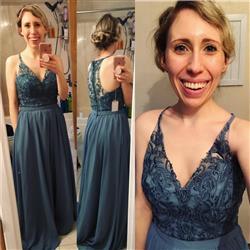 01/29/2019
Madison L.
United States
03/29/2018
Amy C.
United States
Disappointed
I tried a sample and loved how it fit and looked. So i proceeded to order the same size. When i recieved the dress i was so excited until i put it on. This dress fit completely different. The top was larger and the bodice was longer.It looked bad especially around the hips. I called to see if they could do anything for me but i got the usual response. Pay to send it back then order a new one and pay expedited shipping plus a 20% restock fee. Now im hoping my seamstress can make it right. Just beware that the sample may not be the same dress you get.
06/26/2017
Lauren P.
United States
Perfect Fit
In my experience, these gowns have fit true to size. I will only need slight alterations. The dress came earlier than expected and is the perfect color. So happy with my purchase! I will definitely shop Kennedy Blue for future weddings.
Beautiful dress
This dress was beautiful for the wedding I was in! However the material for the top is extremely itchy and alterations proved to be quite difficult.
It's a nice dress
Quality seems great, length is good for me (5'6" and wearing heels), I just look like a whale in it. Might not recommend for those who have wider shoulders as it definitely emphasizes your width. Other than that, the dress is beautiful!
02/18/2019
Caitlin B.
United States
Doesn't Match
The dress fabric and the lace on top are two different colors. It may just be the color I order it in, but it does not look like the picture. The lace was much darker. Pretty dress, but not what I was looking for.
08/03/2019
Cynthia C.
United States
Good experience
Easy to order, fit was almost perfect so minimum alterations!
02/10/2019
Kellie S.
United States
LOVE IT!
These dresses are beautiful & so comfortable! & they have pockets, so how could you not?! They were also shipped right to my house which made it easier on me & my bridesmaids!
02/08/2019
Kailey N.
United States
Iris bridesmaids dress
Have not used yet, tried on. Looks fabulous. Great material
01/29/2019
Jenni J.
United States
Love the color it's great!!!
Love the color it's great!!!
01/18/2019
Genevieve P.
United States
Amazing!
The dresses came earlier than expected and looks great!
01/05/2019
DEBRA K.
United States
Stunning
Whole experience was seamless; easy; practical would highly recommend
08/31/2017
Alexa S.
United States
Love it!
Love my dress. I was a size smaller then I thought. They let me exchange without a problem.
E
06/29/2017
Ellie
Athens
Stunning
Love it so much!
07/25/2018
Shanna H.
United States
Great Quality, Regret Not Ordering Swatches
I got the Iris in the color Fog. The dress fits great, and is beautiful. The quality is good, and it's a comfortable dress. The only thing I was disappointed in was the color, it was not quite what I was expecting. I thought the color was a light grey-blue but in real life it looks like a very pale grey-purple. I did not order swatches to see the colors, and I wish I would have. I still love the dress, and am using this company to order all of the bridesmaid dresses for my own wedding.
05/22/2019
Jessica A.
United States
Tons of alterations
Sadly the dresses don't come in petite sizes. This is the dress my sister choose for her bridesmaids. It is beautiful but it will likely cost me a small fortune to have it altered. I need it take up on the length as I'm 5ft 2in. The waist around fits perfect. But my torso is short so I will need to have the straps tightened. The bust area is too large. Which has never been a problem for me since I'm a 36 DDD. So that will need to be altered. Since the top is all lace it will likely be difficult and expensive. If I would have sized down I may have had trouble fitting around. Sizing up would have mad it all worse. Again the dress is beautiful. It just fits me terrible and will be expensive to alter. Especially since I live in Illinois and will need to find someone to alter it.
01/04/2019
Genevieve N.
United States
Size fits bigger than the same size I tried on
I rented a size 8 a few months ago to make sure it was the correct size I needed, which it was. I immediately ordered the same size for a wedding I am going to be in, and it fits substantially larger and is almost 4" longer in length (and I am 5'11")! I wish I could get a size 6 given this size 8 fits much larger than the same trial dress - however I cannot even return due to the 20% return fee. Please advise if there is anything you can do to send me a size that fits correct.