We wish that we could tell you that bridesmaid dress shopping is easy, but truthfully, it can be difficult. Trying to choose styles and colors for an entire group of women can feel just about impossible. On top of that, how do you determine a fair price point for your girls to spend? And how are you supposed to know which bridesmaid dresses are the best option?
Kennedy Blue is here to answer these tough questions, and provide you with some guidance. By understanding what elements are essential in a bridesmaid dress, and which are there to rip you off, you'll feel ready to tackle shopping. Informed buyers are smart buyers. Plus, you deserve the best for your wedding day.
How Much Should I Pay for a Bridesmaid Dress?
Bridesmaid dresses range from less than $50 to over $200. According to The Knot, bridesmaid dresses cost an average of $140 per person. So, what's up with the huge price range? Let's be real. The surprisingly cheap and way too expensive price points come at a cost - and we're not just talking money.
So, how much should you pay? Before we answer, it's important to understand this: which elements are important in bridesmaid dresses, and which are there to rip you off? By knowing what to look for when bridesmaid dress shopping, you will get a lot more bang for your buck.
Things you should pay for:
Quality fabrics and construction.
Better customer service & experience.
Styles and colors that work for your wedding party.
Things you should not pay for:
Brand names.

Over marked up dresses.
A reasonable price range is $99-$169. At Kennedy Blue, we have found the perfect balance of high quality dresses, great customer service, and customer-desired price points. So, why is this the best price range? If you pay less, you'll see a drastic decline in the quality of your dresses and in your shopping experience. Pay more, and you'll simply be buying a dress for the brand name. (Newsflash: no one at the wedding will see the designer on your tag.)
What Are High Quality Fabrics & Materials?
When bridesmaid dress shopping, it's easy to overlook the quality of the dress. We don't blame you! While it's fun to focus on the style and color, it's important to consider the materials you'll be wearing. After all, it would be a bummer for a zipper to break, or find out the fabric is a bit too sheer come your big day.
The most popular bridesmaid dress fabric is Chiffon. A reasonable price for this would be $100-150. Take into account that shorter dresses will be cheaper, and those requiring more fabric will be pricier.
Specialty fabrics include satin, embroidery, sequins, velvet, and tulle. These will be more expensive, so the general price range you should look for is $120-170. Although you may find prices under $50, this level of quality will give off some serious Halloween-costume vibes.
---
---
There are elements of a high quality bridesmaid dress that set it apart from competition. Here are some of the top ones that you should look for.
1. Fully Lined.If your bridesmaids are wearing a light color dress, you need double liners. Unless you want your guests attention on your MOH's polkadot underwear, invest in a double liner! For darker color dresses, typically a single liner will do the trick.
2. Good Zippers.Did you know that all zippers aren't made equal? Cheaper zippers have higher rates of failure including teeth that break, pulls that pop, and slides that get stuck. Kennedy Blue uses KYY zippers, which are used in high-end clothing brands and are much stronger than the industry average.
3. Structure.If you're searching for a flattering dress that fits better and stays in place, structure is important. Often referred to as 'boning,' structured dresses create a form on your body, resulting in a more defined figure.
4. Adjustable Straps.Just because you're a size 8, doesn't mean your entire body is a size 8. With adjustable straps, you can find that perfect fit, without paying for alterations. Adjustable straps are a convenient addition.
5. Pockets.Everyone LOVES a dress with pockets. It's just human nature. Instead of letting your bridesmaids carry around a clutch all night, gift them with every girl's dream: a dress with pockets.
*These are all elements that Kennedy Blue includes in its bridesmaid dresses*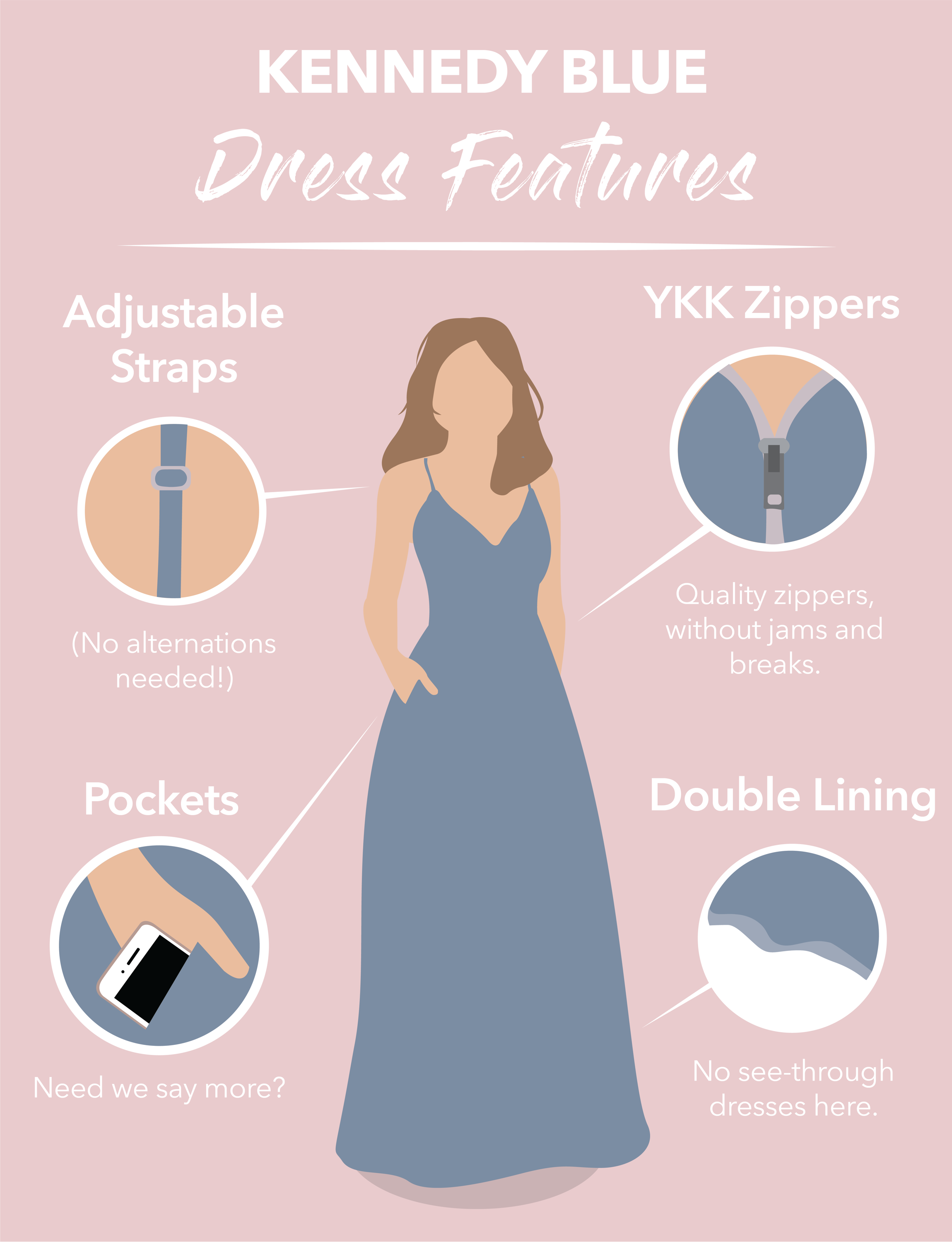 What Customer Service Should I Expect?
Every person has varying expectations when it comes to customer service. The level of customer service also differs based on how you decide to shop. So, we're here to spill some details on what we know about each form of shopping. Then, you can decide for yourself.
If you opt for in-store shopping, you'll get a more hands-on experience. You'll be able to physically try on dresses and work with a specialized stylist. However, that does come at an additional cost. Retail stores must pay for rent and staff, which means your dresses will be slightly marked up. But, for many shoppers, the experience is worth the upcharge.
For reference, Kennedy Blue bridesmaid dresses are available at the Wedding Shoppe, a retail store in Minnesota. There, our dresses sell for $109-$149. So, although the prices can be slightly higher, buying from a retail store doesn't have to mean paying upwards of $200.
Another thing to consider for in-store shopping is the lack of sample sizes to try on. Unless your bridesmaids all fall between sizes 6-10, it's likely that the shopping experience won't be so fun. With some of your girls drowning in the dresses, while others struggle to fit, there could be hard feelings.
We've found the best alternative to in-store shopping: trying on at home! At Kennedy Blue, we offer an at-home try on program. This means we ship any size and style directly to your house. You get to test out your favorite bridesmaid dresses, from size 00-32. This way, you'll know exactly what the dress will look like on you, and find the one that's the most flattering. For bridesmaids that live far away from one another, this is an especially amazing option!
The try-on at home program allows Kennedy Blue to be a direct to consumer brand. This means the bridesmaid dresses go straight from our hands to yours. Since we've cut out the middlemen (think in-store retailers), you get to pay less!
There are endless online retailers from which you can purchase bridesmaid dresses. But, are those options high quality and reliable? Ordering online, without being able to physically try on dresses, is often a gamble. You may end up with a bridesmaid dress that looks nothing like its online photos, with see-through material. Or, you could get lucky!
So, should you shop online? We recommend only doing so if you are able to try on the dress beforehand. That way, you will know how it looks on each of your bridesmaids. If you do choose to purchase online, aim for the $99-$169 price range to improve the chances of satisfaction with your dress.
What Other Factors Should I Consider?
Before jumping into shopping, there are a few more factors that you should take into consideration. Whether you're looking to match your whole wedding party, or need help deciding on a color, we're here for you!
1. Coordinating with Groomsmen.
Everyone knows how difficult it can be to match the groomsmen's accessories with the bridesmaids' dresses. It's time consuming and nearly impossible! At Kennedy Blue, we offer coordinating bow ties, regular ties, and pocket squares to perfectly match your bridesmaids. Check out our blog, here.
2. Popular Bridesmaid Styles & Colors

.
Make sure you get the styles and colors that best fit your wedding! If you need some guidance, look into our most popular options for this year.
3. Pregnant or Junior Bridesmaid?
Do you have someone in your bridal party who needs a special dress? Kennedy Blue offers coordinating maternity and junior bridesmaid dress options. These will match seamlessly with the rest of your bridesmaid group, ensuring that everyone feels included.
We hope we answered your top bridesmaid dress shopping concerns! From understanding the best price range, to knowing what materials to look for, we want you to be informed. If this guide helped, or if you have any additional questions that you would like answered, please let us know in the comment section below. We would love to hear from you!