Bridesmaid Dress Dye Lots: Do Dye Lots Actually Matter?
If you've been on the hunt for bridesmaid dresses, it's likely that you've heard the term 'dye lot'. Dye lots are part of the manufacturing process, which can result in unwanted fabric color discrepancies in bridesmaid dresses. This can cause unnecessary stress for the bride, especially if she's looking to have a perfectly matching bridal party. So, what exactly are bridesmaid dress dye lots, and are they something you should lose sleep over?
DYE LOT example: A slight color variance between bridesmaid dresses due to different dye lots. Though the shade differences are minimal, you can see the dress on the right is lighter and more vibrant than the dress on the left.
---
What Are Dress Dye Lots? Should I Be Concerned?
To understand how dye lots can affect your bridesmaids dresses, it's important to understand the dye process. We're here to ease your worries and make sure you're educated before making any big wedding purchases.  
DRESS DYING PROCESS: When starting out, dress fabrics are spun into a neutral color. So while you may be ordering a burgundy bridesmaid dress, the initial fabric color starts out much different than the final product! Fabric is then purchased by a bridesmaid dress company (it's important they order in large bulk quantities to avoid fabric variances!)
When it comes time to dye the fabric, companies use various processes to transform dresses to the final shade. Kennedy Blue uses electronics to assist its dress dyeing process, ensuring consistent shades across time. However, other companies may opt for less-than-meticulous approach when it comes to dye lots.
In a dye lot, a large amount of fabric is dyed in a batch. The dye lot is a number used to identify the dresses that were dyed in that specific batch. When fabrics are dyed this way, small differences in factors like dye time and temperature can result in slight color variations between dye lots, (even when everything else is in the process is identical!) For that reason, many bridesmaid companies recommend ordering all the dresses at the same time. That way, your bridesmaids' dresses will come from the same dye lot and will be identical in color.
So, should you be concerned about dye lots and discolored bridesmaid dresses? The answer depends on what company you purchase from. If you choose to order from Kennedy Blue, you do not need to worry. Your dresses are guaranteed to match as long as you order them within 6 months of each other! However, if you choose to go with a different bridesmaid company, make sure you reach out to their customer service prior to ordering.
---
Kennedy Blue's Bridesmaid Dress Dye Process
To eliminate worry about inconsistent dye lots, Kennedy Blue has adopted a unique process for coloring bridesmaid dress fabric. All fabric is dyed using electronics, meaning there will not be dye lot inconsistencies. This is to ensure all of your bridesmaids' dresses, whether ordered together or separate, are the same color. For extra color consistency assurance, Kennedy Blue continuously compares current dress colors to the original sample color.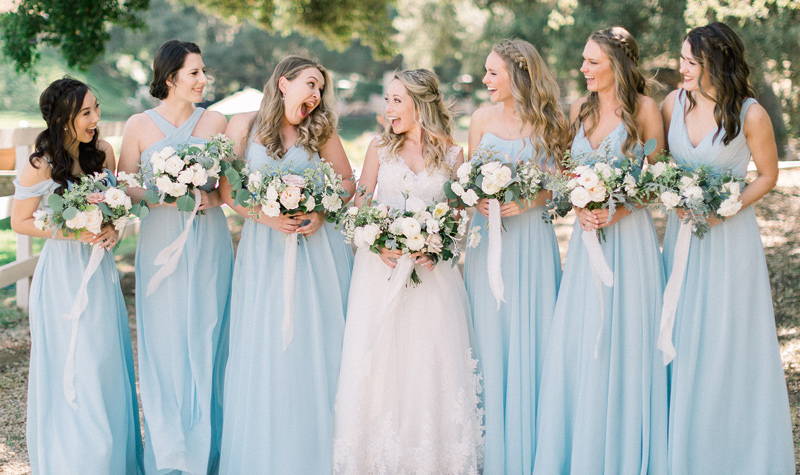 (Dresses: Kennedy Blue Sky || Photography: Ball Photo Co.)
Color Guarantee: You shouldn't need to worry about discolored dresses, or stress about getting all the orders in at the same time! As long as your bridesmaids order within 6 months of each other, we guarantee your colors will perfectly match ~ or we'll replace it for free.
Unlike other top bridesmaid dress brands, Kennedy Blue ensures dress color and quality consistency by only using ONE factory for manufacturing dresses. Having one centralized location means that all fabrics, processes, and designs are identical and controlled. Kennedy Blue also utilizes high-quality Korean fabrics, ordered in large bulk quantities, for the highest dress quality and matching. After all, providing identical bridesmaid dress colors should be our responsibility, not yours.
---
How To Avoid Mismatched Dresses Due to Dye Lots
If you plan to order your bridesmaid dresses from Kennedy Blue, there's no need to consider the advice below! However, for those ordering from a bridesmaid dress company that has dye lot inconsistencies or has more than one factory, we have some tips for you.
1. Order all bridesmaid dresses at the same time
Encouraging your bridesmaids to place their orders at the same time (typically within 24 hours of each other) will oftentimes ensure dresses from the same dye lot. Tip: Make sure to coordinate schedules ahead of time, so that everyone is available to go online and buy. This can be difficult when you have multiple bridesmaids ordering from different locations, so plan far in advance.
2. Make sure the brand values dress quality
Most of the time, dye lots will not differ greatly to the naked eye. However, there will sometimes be lots where the color is noticeably different. If you choose a company that does not place emphasis on quality, those discolored dresses may find their way to your bridesmaid lineup. Make sure to choose a company that will recognize large issues like that and fix them before the dresses are sent out.
Tip: if the price of a bridesmaid dress seems too good to be true, it probably is. Be wary of companies that utilize cheap fabrics or order fabric in small quantities. These will likely lead to variances in color, or poor quality dresses.
(Dresses: Kennedy Blue Bordeaux || Photography: Dani Nicole)
High Quality Standards: Kennedy Blue takes pride in offering high quality and affordable bridesmaid dresses. All fabrics, designs, and processes are controlled and thorough. After all, you deserve the best for your wedding day!
3. Opt for Darker Bridesmaid Dress Colors
When it comes to dye lots, neutrals and lighter dress colors are more difficult to color match than their darker counterparts. So, if you're unable to purchase all of the bridesmaid dresses at once to avoid potential dye lot differences, choose a darker color. Navy blue, black, and burgundy are all good options for more consistent shades.
4. ALWAYS order from the same designer
For an identical color palette, don't mix and match dresses from different companies - it will be almost impossible to shade match. If you want uniform colors, order directly from the designer or an authorized retailer. This will help you to avoid cheaply made dresses, which will likely vary in color. It'll also give you a better chance of getting bridesmaid dresses from the same dye lot!
---
More Tips For A Perfect Bridesmaid Dresses Lineup
Although dye lots may take center stage when it comes to discolored bridesmaid dresses, there are other factors that can also cause color discrepancies. Here's our advice on what to look out for when you want your dress colors to perfectly match (and other ways to avoid dye lot issues).
1. Different fabrics present the same color differently
If you want perfect color matches, make sure to order dresses with the same fabric! Mixing and matching chiffon with velvet or tulle may result in off-shades. This is because different fabrics react uniquely when dyed. However, these slightly variant shades can add a lot of beautiful dimension to your bridesmaid lineup!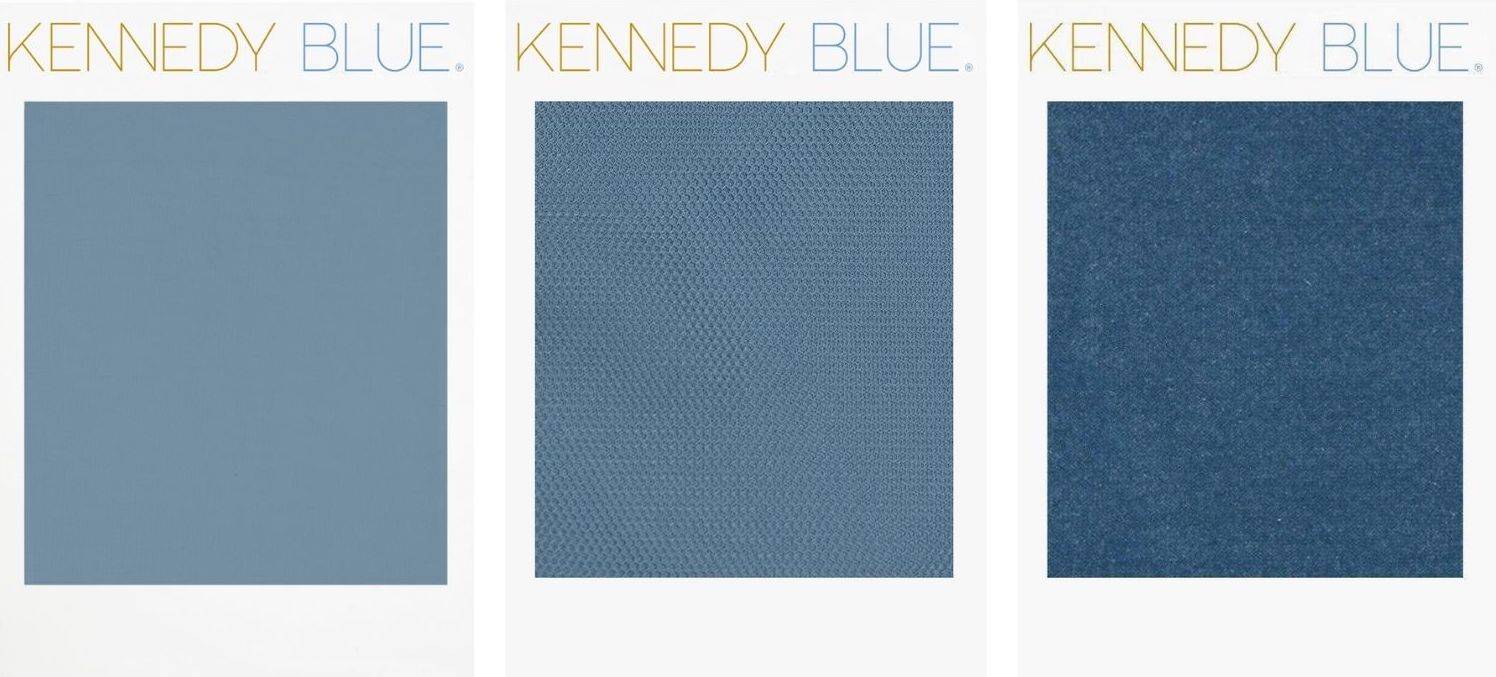 2. Consider mismatched bridesmaid dresses
If the talk of dye lots is stressing you out - or if you simply like a one-of-a-kind look - consider mixing and matching your bridesmaid dress colors! This way, there's no need to worry about a 'perfect' lineup, as yours will be unique to your wedding. Plus, this allows your bridesmaids to pick a shade (from your choices) that they feel most confident in. It's a win-win for everyone!
(Dresses: Kennedy Blue Marine, Sky, + Slate Blue| Photography: Reigh Walker)
A mismatched bridesmaid dress lineup is always a fun option! Get inspiration from this real Kennedy Blue wedding which features a stunning palette of blues!
3. Still feeling doubtful? Call the dress company!
As a customer, you deserve to be informed about a company's processes! If you are worried about dye lot color discrepancies, or other quality-related issues, reach out to the bridesmaid dress company. Just make sure to speak to customer service before placing any orders. It's important that you feel confident and excited about a purchase as important as your bridesmaids' dresses!
---
If you have any more questions or concerns, we would love to help you out! Live chat with us, or give us a call. We hope that your journey to finding the perfect bridesmaid dresses ends with us! If not, we hope we've provided adequate resources to lead to you to be the most informed bridesmaid dress customer.