Flat Chiffon Fabric Swatches
$ 2.00
Product details
Looking for the perfect color to outfit your bridesmaids in? Whether you're looking for the perfect dusty blue or blush pink, you're sure to find a color to complement your wedding day!
About Flat Chiffon:
Imagine the dreamiest, silkiest chiffon to ever touch your skin. That's our flat chiffon fabric! Our flat chiffon is incredibly lightweight and airy, which is what gives our bridesmaid dresses such gorgeous flow and movement. 
These swatches coordinate with our flat chiffon bridesmaid dresses and will come as one swatch of our luxe chiffon fabric in the color(s) you have purchased. Order yours today!
Customer Reviews
Write a Review
Ask a Question
Filter Reviews:
quality
color
fabric
swatch
Kennedy Blue
wedding
dresses
bridesmaids
delivery
person
04/11/2018
Viki B.
United States
Luxe Chiffon Fabric Swatches: Slate Blue
Product was neatly wrapped and came quickly. It was very nice to have the swatch of the fabric to match the ties to while the bridesmaids dresses are getting altered. Thank you for offering this service!
08/21/2019
Irene G.
United States
Excellent Overall Service
I have been extremely impressed with the responsiveness of this company. They send the swatches in a very timely manner, and I've had similar experiences with the "try at home" dresses.
08/15/2019
BRITTANY H.
United States
Dusty Blue Color Swatch
Ordering online was very easy and it arrived in the mail when expected. I was happy to find that the swatch is a larger piece than most other sites offer. I would recommend getting a color swatch, even just to store in your purse, to have as a color reference while shopping for all of your wedding needs!
07/29/2019
Shanelle R.
United States
Swatch first!
It was so great to able to order swatches before committing to buy a dress! I ordered a couple of pinkish / peach-ish shades. It's so helpful and convenient. I was able to feel the fabrics, put the swatches against my bridesmaids skin tones. Highly recommend ordering the swatches!
07/12/2019
Megan T.
United States
Blush Fabric Swatch
I was very happy with the number of design selections for the bridesmaid dresses. I ordered Blush and Desert Rose Chiffon swatches. Desert Rose is very similar to the image online, but Blush looks more like a **** or tan with an orange tint, not at all pink like the photos look. I will definitely not be using Blush dresses, but I will consider other colors. Ordering swatches is very easy and the samples come quickly.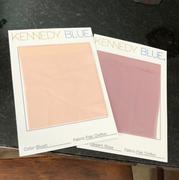 04/23/2019
Katelyn M.
United States
Color Swatches
I am so glad that I choose to order a couple of different color swatches. So let me tell you why. I was wanting what I thought was "dusty blue", but apparently this same color is also called "slate blue" and "steel blue" as well. To me they are all similar but they also all look different. I'm glad I ordered them because there is a color difference then what you see online. Which in my case was a life saver because what I was seeing online was not the perfect color match for me and I got discouraged until I received my swatches and it was the perfect match and color I was wanting. So I definitely would order your swatches to help you make your decision!
05/07/2018
Erica C.
United States
Dark Navy
Overall a very easy process. Shipping was timely. The color swatch was an ample size. The navy is just a little darker than I had hoped for.
07/10/2020
London W.
United States
Never received
Probably would be helpful to provide tracking info so you know what happens to peoples swatches. Disappointed I never got them so we will obviously not be using Kennedy blue for our bridal party
07/09/2020
Emilee H.
United States
Pretty!!
It was a little too dark for what I invisiomed so I'm glad I ordered this.
07/08/2020
Arielle
United States
Colors are beautiful!
It's been so hard to find the right shade of blue so I was very happy with my swatches!
07/08/2020
Heather A.
United States
Helps you choose the easy way!
I love Kennedy Blue swatches! They come big enough to where you can lay it over your arm to see how the color looks on skin tones. It makes choosing a color for bridesmaid dresses that much easier. Can't recommend these enough!
07/06/2020
Claire D.
United States
Fabric swatches
So happy that I was able to order fabric swatches in the colors I was unsure of for the wedding! Helpful to see them in real life
07/06/2020
Elizabeth M.
United States
Great ideas
Perfect way to really determine what we're looking for not only bridesmaids dresses but overall colors. Highly recommend ordering swatches before diving in
07/05/2020
Eileene M.
United States
Very Pretty Colors!
I loved the getting the fabric swatches because now I can see my bridesmaids next to the colors so we can mismatch them perfectly.
07/05/2020
Adriana D.
United States
07/04/2020
Ang p.
United States
07/03/2020
Lesley O.
United States
Swatches
we got the swatches very quickly but they didn't have all of the colors we needed.
MA
07/03/2020
Megan A.
United States
Perfect match!
It was so convenient to get the swatch to compare it to my best friends swatch for her wedding. It's a darn neat perfect match. I was also able to compare it to an at he try on in a similar shade which was helpful. This is Mr second bridesmaid dress purchase from kb and I am pleased!!?
07/03/2020
Laura F.
United States
Swatch
Super easy process of ordering swatches. Reasonable shipping time and plenty of colors to choose from.