Floral Bridesmaid Robe
$ 19.99
Product details
Satisfaction Guaranteed: We offer a full merchandise refund on all robes if you are not 100% happy.


Wedding Robes Designed for Getting Ready & Photos!
Our floral bridesmaid robes are a must-have for getting ready with your bridal party. Not only are they comfortable, but they make for fun photos! With real women sizing (US size 0-24!), knee length, and comfortable rayon cotton material, your bridesmaids are sure to be cute and confident for the big day!
The floral bride & bridesmaid robes are intended to have a comfortable fit. If you find yourself between sizes, we recommend sizing up!
STANDARD: Typically accommodates women's sizes 0-16. Robe length: 39.5"
PLUS: Typically accommodates women's sizes 16-24.
The models featured are between 5'6" and 5'10" tall.
They are all pictured wearing size STANDARD.
One Navy Robe is featured in size PLUS.
Standard Size Robe Length: 39.5"
Plus Size Robe Length: Slightly longer than Standard length.
Product Material: 100% Rayon Cotton
Care: Machine Wash Cold. Hang Dry. Steam or Iron on low.
Robes Ship Immediately! It will take approximately 2-4 business days to receive your order in the the continental US.
Satisfaction Guaranteed! If for any reason you are not 100% happy with your order, we offer a full merchandise refund on all robes.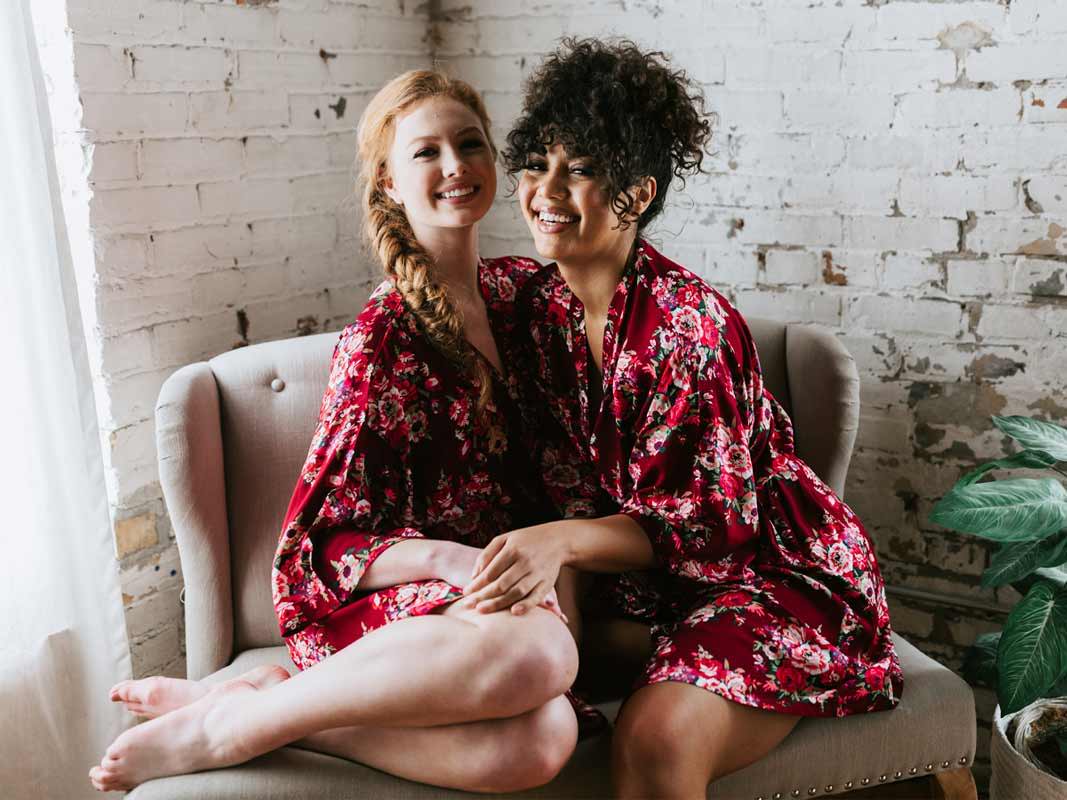 Size Inclusive:
The floral bridesmaid robes come in standard size (size 0 to most 16s) and plus size (size 16-24). Unlike many wedding brands, we NEVER charge extra for plus size products!
Longer Robes for Better Coverage:
Many standard robes are way too short, leaving the wedding party feeling exposed or uncomfortable. Our robes are a longer design (knee-length!), that adds extra coverage so everyone will feel confident as they get ready.
Robes Ship Immediately:
Customers in the continental US can expect to receive their order in 2-4 business days.
Designed for Getting Ready:
Everyone will be moving around prepping for the wedding & doing makeup/hair. Our robes are lightweight cotton, and don't slip off like satin robes can. Since you'll be on-the-go, these wrap-style robes include a tie belt to keep the robe secured.
A Fun Bridesmaid Gift:
The floral robes will last long after the wedding! The majority of our customers give these as gifts to members in their bridal party.
Choose from 9 Colors:
Mix and match your robes with 9 fun colors ~ or, coordinate all your girls in your favorite color.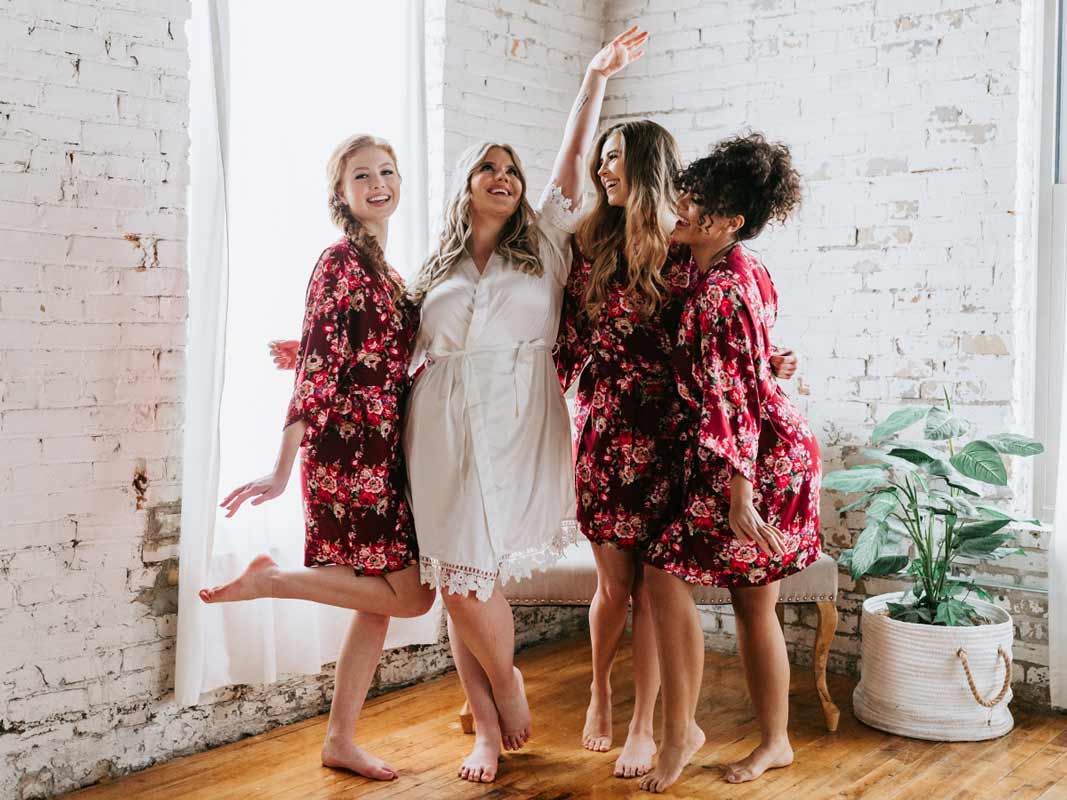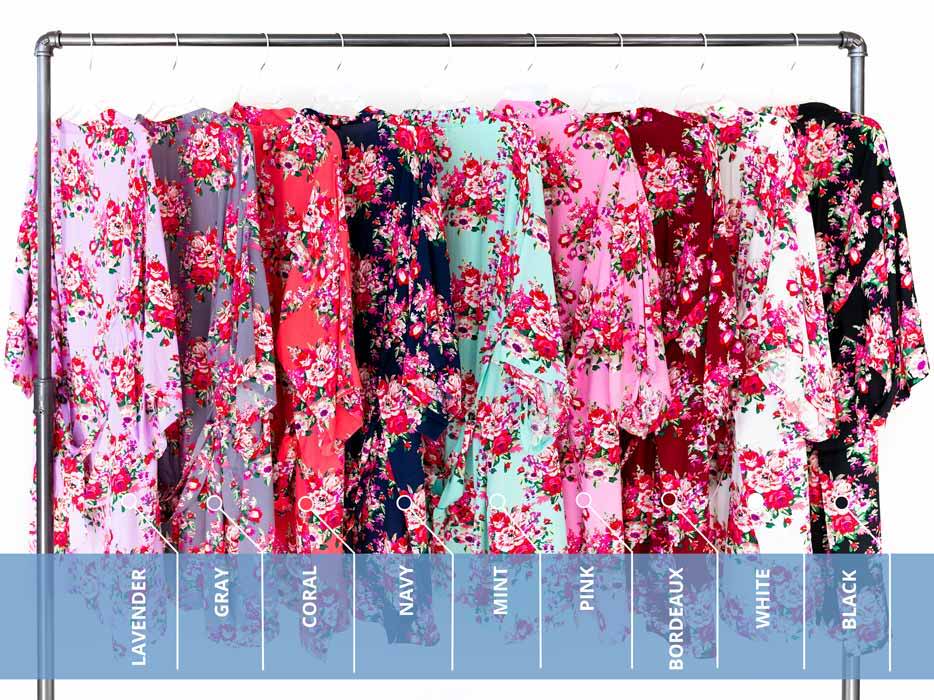 See this product on real Kennedy Blue customers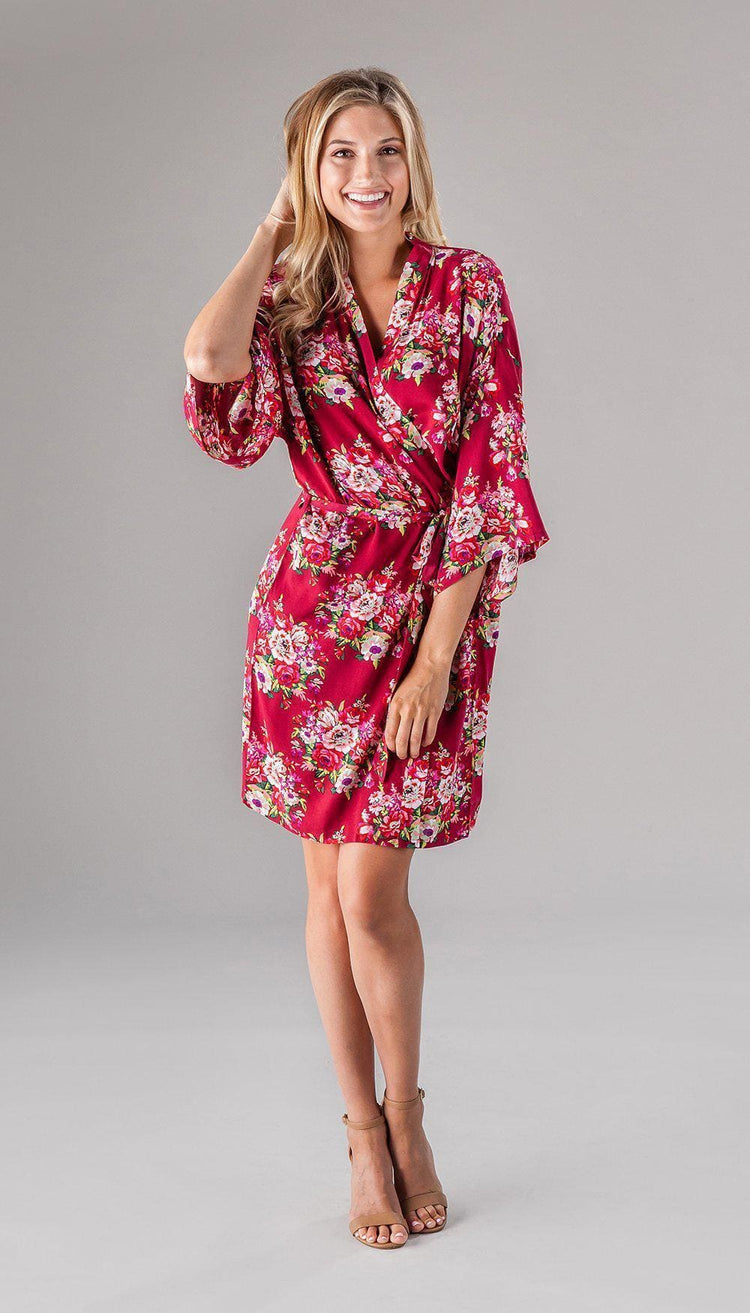 Floral Bridesmaid Robe
Was added to your shopping cart