Introducing: Our Spring 2018 Collection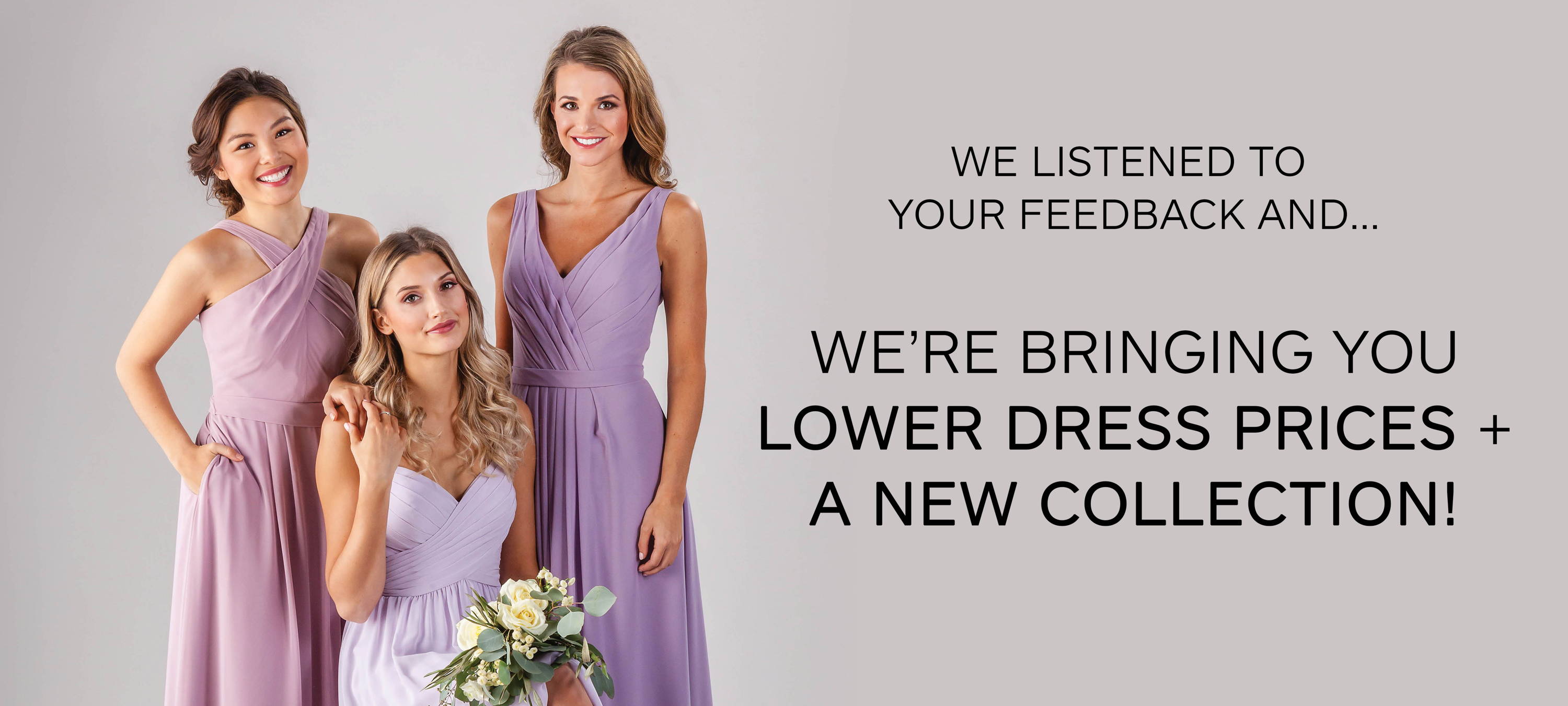 Everything You Need to Know:
We're introducing 18 new bridesmaid dress styles, inlcuding everything from classic silhouettes to on-trend boho styles, along with a new beaded embroidered fabric!
We've added 13 new colors, perfect for mixing and matching!
ALL dresses are now $99-179
ALL dresses have been marked down up to 25% off of the original price!
Check Out Some of Our Favorite New Styles
Measurement Guide - How to Measure for Your Size
Taking Your Measurements
For the most accurate measurements, do not measure over your clothing. Your measurements should be taken while wearing undergarments similar to the ones you will wear with your dress. The measuring tape shouldn't be pulled too tight or have too much slack, and should always be parallel with the floor. 
**Wedding apparel is typically sized differently than retail clothing, so keep in mind that it's not uncommon to find yourself requiring dress alterations.
Hollow-to-Hem: Hold the measuring tape vertically starting at the indent in your neck area between your collarbones and below your throat. Then, keeping the tape taught, bring the tape to the floor to meet your toes. This is your hollow-to-hem, or hollow-to-floor, measurement. The motion is similar to taking your height measurement. 
Bust size: Wrap the tape around your back and under your arms at the fullest part of your bust (not underneath the bust).
Waist size:  While standing up straight, bend at the waist to one side. Take the measurement where the natural crease happens in your side. This should be a few inches above your belly button. Stand up straight and do not suck in when taking this measurement.
Hip size: Standing with your feet together, wrap the tape around the fullest part of your hips and butt to get this measurement.
Choosing your correct size
Compare  these three measurements to the Kennedy Blue size chart above. It is very important that you order the largest size that corresponds to your measurements. For example, if your bust measures 40.5" (size 12), your waist measures 31" (size 10) and your hips measure 41.5" (size 8), we advise that you order a size 12, and get your dress altered down to custom fit your body. Ordering anything smaller than a size 12 would not fit in the bust area. Depending on the fabric, a dress can be altered down up to 2 full sizes, but can be very difficult to let out as there is only about .5 inch of fabric to do so at the seams. Please note: Our bridal gown size chart is different than the bridesmaids sizing and is listed below.